Kolor - how we pioneered the blockchain social media
The Problem
With the development of Web3 technologies came many revolutionary ideas. The Kolor team took the biggest idea of Web2 - social media platforms - and redefined it in order to fit with the newest Web3 trends. They wanted to create a safespace on which people who wanted to remain anonymous could post their content. Those people include artists, whistleblowers and investigative journalists among others. Thanks to Web3 and Kolor, they are able to post anonymously, while retaining their identity.
Tech used
Front-end was written in ReactJS - our favorite framework for highly dynamic websites, smart contracts were written in Solidity. Back-end was written in Golang, with further integration provided by a decentralized file hosting - Storj. Other technologies we used include useDapp, ethers.js, Infura and Binance Smart Chain APIs.
Beginning of the process
Values such as anonymity and freedom of speech are at the very core of Parlour Development's philosophy. Due to this fact, we were very impressed by the vision presented by the Kolor team. After no more than 3 online meetings both teams were on the same page and have signed a contract. As with our other projects, we assigned a dedicated project manager, who oversaw all processes. Part of our process were the biweekly meetings between our teams, during which we thoroughly discussed the progress made. 
Design
Kolor had already figured out the design language and logo before approaching us so we immediately started working on designing the dApp itself. We started by working on the main screen with the default user feed. After going through a few iterations we settled on a look reassembling the Twitter feed. One of the most important features for the Kolor team, was the ability to 'Appreciate' a post instead of 'Liking' it. The main difference between those two is the fact that while appreciating they could donate cryptocurrency of their choice directly to the user's wallet. You can see an example post below: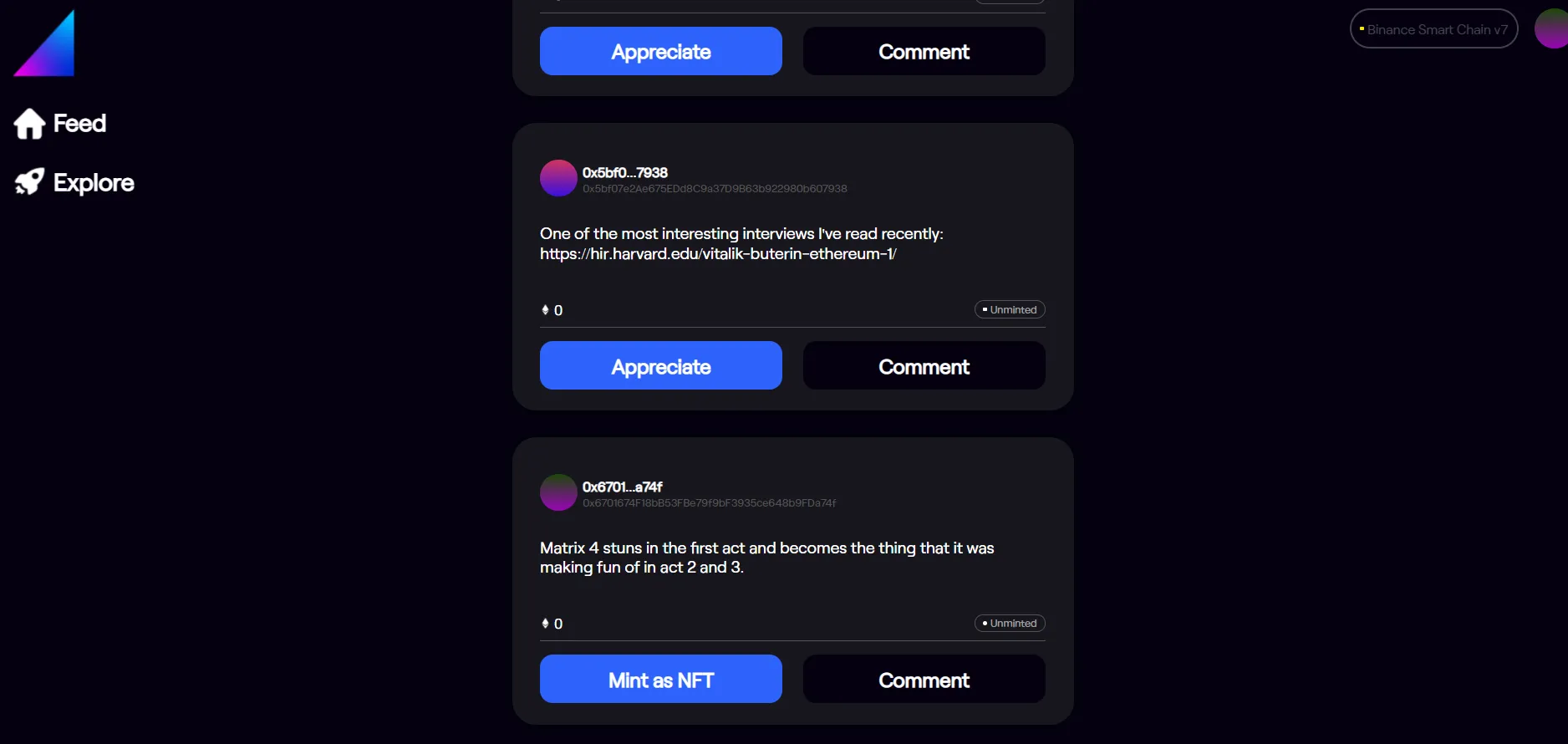 The post consists of: content, users info (wallet address and nick), post info (how much it got donated, whether it is minted) and comments. As you can see even though the users connect through their wallets, they have their nicks displayed. In the next paragraph we will go into detail about how we achieved that.
Here you can see the landing page we designed and coded 
for the Kolor project. It is important to note that the icons are animated on page load.
The page describes philosophy, approach and features of Kolor.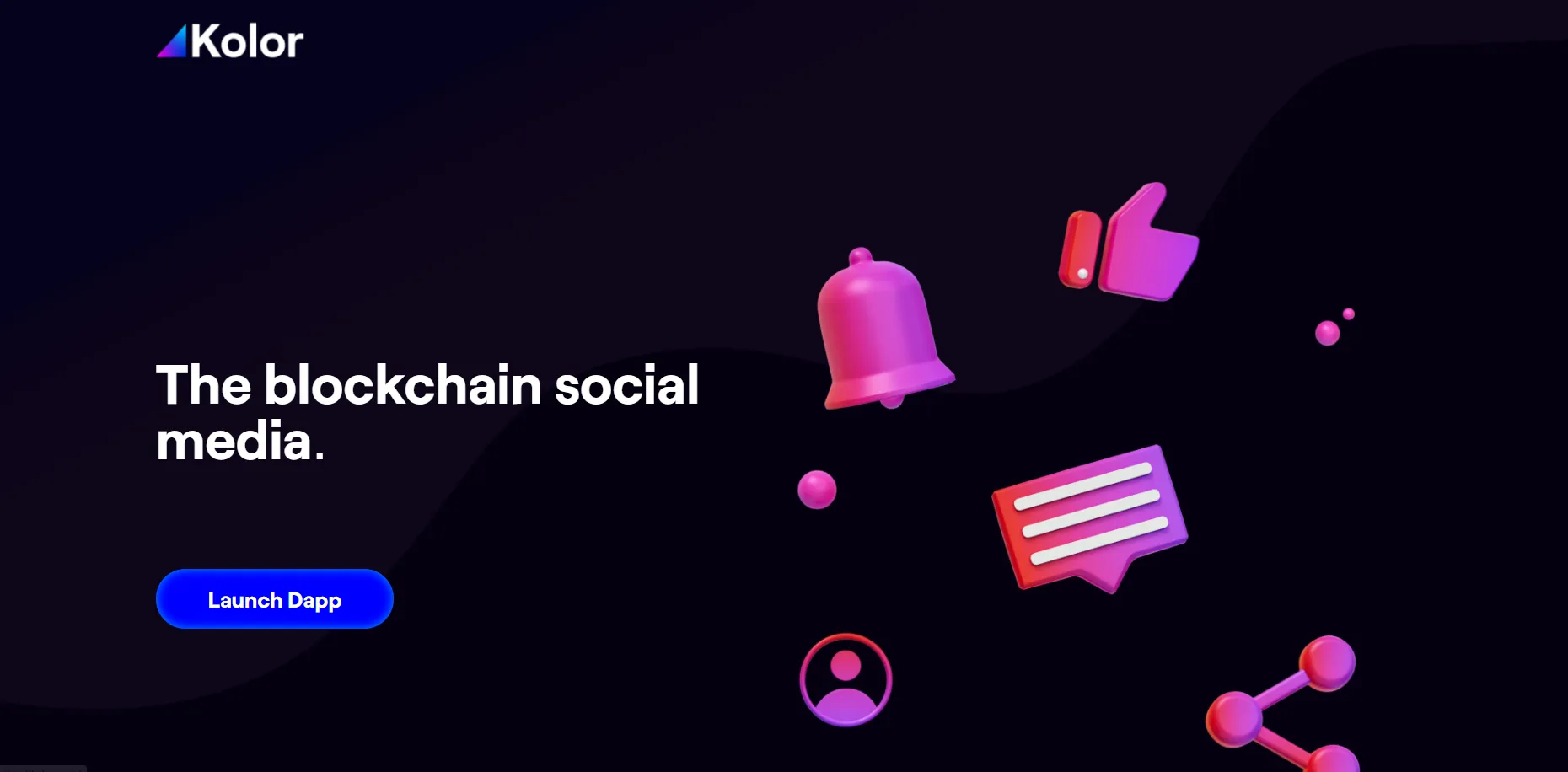 Front-end development
The first thing we did was nailing the post component and then dynamically displaying it. The post changes when it is minted, and displays the amount of crypto donated to the content creator. As we did with many other projects before, we worked by a system in which we went through numerous iterations in order to receive dynamic feedback from the customer. The whole front-end development of the project took no longer than 3 months. It is important to note that we developed the blockchain back-end simultaneously, so that we could deliver the application as fast as possible.
The next thing we did was develop the post editor, where users can upload images, videos, files and use Markup language in order to make content more engaging.The main problem we encountered while developing the front-end was making the dApp responsive both on big screens (desktop) and the smaller ones (phones, tablets). 
Back-end dev 
Given the complexity of the project, developing the blockchain back-end of the dApp took much more effort than coding the front-end. We had to ensure the highest possible level of decentralization. Due to the fact that many blockchain solutions are still in a very early stage of development, we had to create some of them ourselves. Above that we used Stroj - a decentralized file hosting. That way all the content creators remain anonymous. Parlour created a function which lets users create nicks and authenticate them through their wallet - because of that, they will not be impersonated. We also developed a dedicated Kolor Token in the ERC-20 standard token and got it listed on various DEXes (decentralized exchanges).
What we delivered
Parlour Development delivered the whole Kolor dApp, coding and designing it from scratch. We also created a dedicated Kolor Token that we managed to put up on various decentralized exchanges. Parlour was also responsible for designing and coding the Kolor landing page.
Conclusion
After having worked with us, the Kolor team went on to present their app at various conferences. Right now, they are going through successful rounds of funding with venture capitalists in the USA. They also started social media campaigns with influencers from all over the world. Both teams think of our collaboration as a successful one and look forward to working with each other in the future. We are in early talks about bringing Kolor to the mobile.